How crazy is it that it's July already? We were in the hospital with Baby Girl June 1st, and I was sure we'd still be there today. Fortunately we escaped at the last second and got home June 30th!! We spent today doing absolutely nothing and loved every second of it!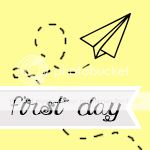 Do you want to join in on First Day Fun? Link up with Nicole over at
Journey To...
Be sure to check out what everyone else does on their first day!